What is covered in this annuity review?
In this review of the American General Power Index 5 Plus annuity, we will be going over the following details:
Type of annuity
Advantages and drawbacks of the annuity
How this annuity might be presented by a financial advisor
How the annuity is best used
How the annuity may be most poorly used
Annuities can be complex. That's where having an Annuity Investigator who loves math comes in. We make the complex, simple.
If you have been thinking about getting an annuity that can allow you to keep your principal safe, while at the same time also allowing you the opportunity to attain a nice, index-linked return on your money, then the American General Power Index 5 Plus fixed index annuity may be a good vehicle for you. However, before you dive right into this – or any other – annuity, it is really important to get a more in-depth understanding of how the product works, and how it may – or may not – end up working for you and your overall financial plans. Throughout the past several years – and especially since the market and economic downturn of 2008, and the more recent COVID-19 outbreak and corresponding market correction – fixed and fixed indexed annuities have become quite popular as a means for providing a guaranteed lifetime income stream in the future. Because of this, the number of financial and insurance sales reps who are offering these types of products has also increased. This, however, it not necessarily a good thing. One reason for this is because, as the wide array of annuity features and benefits continues to expand, advisors may not always fully understand what it is that they are selling – and in turn, many consumers run the risk of expecting the product to act one way when in reality it won't. Therefore, digging in to more of the product information before your make a commitment can help you to avoid the frustration – and the expense – of putting your hard-earned retirement savings into a product that really doesn't fit your needs. The good news is that the Annuity Gator specializes in providing annuity reviews, which can help you to either feel better about a purchase decision, or in turn, avoid what could end up being a costly mistake.
Annuity and Retirement Income Planning Information that You Can Trust
If this is the first time you've visited our website, then please allow us to personally welcome you here to Annuity Gator. We are a team of experienced annuity and retirement income specialists who focus on offering very in-depth, and unbiased, annuity reviews online. We've been doing this for quite some time now – longer than many of our competitors…even though there are some websites that offer "copycat" information, based on our reviews. If you've spent any amount of time online looking for information about annuities, then it's likely that you have run across some highly conflicting details about these financial tools. That really isn't all that surprising to us, though, as there are many varied opinions about these income-generating, tax-advantaged financial vehicles. There are also a fair number of annuity-related websites that will try to "lure" you in for the purpose of giving them your contact information. They'll oftentimes do so by stating some pretty bold claims, like:
Lowest fees
Highest income payouts
Top-rated annuity carriers
A guaranteed income stream for life
Look familiar? Yet, while these claims might sound truly enticing, it's important to be aware of whether or not they are actually true. Annuities can have a great deal of "fine print," so reading up on the ins and outs of how they work can be somewhat time-consuming. But there is an easier way to learn how a particular annuity works by going over a comprehensive review. That being said, if you are here to obtain more details about the American General Power Index 5 Plus annuity, then you are certainly in the right place. In fact, dare we say that Annuity Gator is the only website where you will find all of the information that you need – which includes the good, as well as the not-to-good. This, however, is really the only way for you to make a realistic and well-informed decision about whether or not this annuity is right for you. So, if you're ready to get started, let's jump in!
American General Power Index 5 Plus Annuity at a Glance
| Product Name | Power Index 5 Plus |
| --- | --- |
| Issuer | American General / AIG |
| Type of Product | Fixed Indexed Annuity |
| A.M. Best Rating | A+ (Excellent) |
| Phone Number | (800) 445-7862 |
| Website | https://aig.com |
Opening Thoughts on the American General Power Index 5 Plus Annuity
American General Life Insurance Company has been offering its products for more than 160 years. The company has a mission of being the premier provider of protection, investment, and income solutions that are needed for both financial and retirement security. Today, the company is a part of American International Group, or AIG. AIG has operations in more than 80 countries and jurisdictions around the world. The company employs nearly 50,000 and is known as an insurance powerhouse, offering both personal and commercial coverage. Based on its financial strength and claims-paying ability, AIG is highly rated by the insurer ratings agencies. These include a(n):
 A+ (Strong) from Standard & Poor's
 A2 (Stable) from Moody's Investor Services
 A (Excellent) from A.M. Best
 A+ (Stable) from Fitch
Over the past several years, the demand for fixed indexed annuities has risen significantly. This is due in large part to the volatility in the stock market, and the need for people to both grow and protect their money at the same time. A fixed indexed annuity is oftentimes touted as the "best of all worlds," because they allow their owners a way to secure a positive return in good times and to hang on to their principal value during market downturns. But it is essential to know all of the in-depth details about a fixed indexed annuity you are considering before you move ahead with depositing a large chunk of your money into one – as it can be difficult, and costly, for you to get out if you later realize that it really isn't the best option for you.
Before we get into the gritty details, here are some legal disclosures we need to provide…
This is an independent product review, not a recommendation to buy or sell an annuity. American General has not endorsed this review in any way, nor do we receive any type of compensation for providing this review. This review is meant to be an independent review at the request of readers so that they may see our perspective when breaking down the positives and negatives of this particular annuity. Prior to purchasing any type of investment or insurance product, it is important that you do your own due diligence and that you consult a properly licensed professional if you should have any specific questions that relate to your individual circumstances. All names, marks, and materials that were used for this review are the property of their respective owners.
For more details on how you can compare annuities so that you can determine which one may be right for you,
click here
to instantly download our free annuity report.
How American General Describes the Power Index Plus 5 Annuity
American General/AIG describes the
Power Index Plus annuity
 as a product that is designed to help you grow assets, while at the same time avoiding the risk of losing principal during down markets. With this annuity, you are able to allocate your funds across a wide range of tax-deferred index interest accounts, as well as a fixed interest account. There are a number of potential benefits with purchasing a fixed indexed annuity like the Power Index 5 Plus, such as:
 Growing Your Retirement Assets
 Deferring taxable gain until the time of withdrawal
The Power Index 5 annuity offers several different index interest accounts to choose from, including:
 S&P 500 Index – Two index interest accounts are available based in part on the growth potential of the S&P 500 (without dividends). These include annual point-to-point and annual point-to-point participation rate.
 ML Strategic Balanced Index – You can also choose between two index interest accounts here, as well, including annual and two-year point-to-point options, based in part on the performance of the ML Strategic Balanced Index, a hybrid index that diversifies across stocks, bonds, and cash in order to help with stabilizing returns.
 PIMCO Global Optima Index – This index interest account offers you the opportunity to earn interest based on the PIMCO Global Optima Index, which dynamically blends global equities (including small cap, international, and emerging market stocks) with U.S. fixed income markets to help deliver upside potential.
 MSCI EAFE Index – This index interest account offers you the opportunity to earn interest based on the MSCI EAFE Index, and is designed to represent international stocks (excluding the United States and Canada).
 Russell 2000 Index – This index interest account offers you the opportunity to earn interest based in part on the performance of the Russell 2000 index – which is comprised of U.S. small cap stocks with market capitalization that averages $2 billion.
You can check out the
online fact sheet for the Power Index Plus 5 annuity HERE
. There are actually four different interest crediting strategies offered with this annuity, so you can essentially "customize" the way your account grows, based on your specific needs and objectives.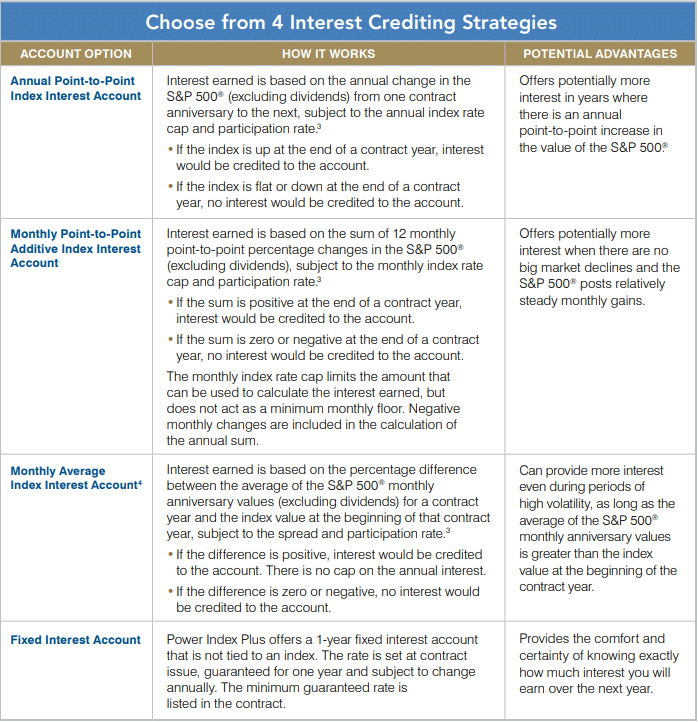 One of the other key features that allows this particular annuity to stand out is the ability to guarantee rising income for a set period of time. This, in turn, can help your retirement income to keep pace with increasing inflation (and of course, the increased prices of the goods and services you need to purchase). Other "bells and whistles" included with the Power Index Plus 5 annuity from AIG/American General include the ability to access your money penalty-free (even during the surrender period) in case of illness or other qualifying need. For instance, both the withdrawal charge and potential market value adjustment may be waived if you are diagnosed with a terminal illness, have extended care needs, or you are confined to a nursing home or an assisted living facility for a certain amount of time. An optional guaranteed living benefit rider – the Lifetime Income Plus – may be added to the annuity (at an additional charge). This rider allows you to guarantee that your retirement income will rise over the contract's first ten years. You may also be able to guarantee your income stream for life. The rider does to by locking in the greater of the interest earned from the contract or an annual income credit of up to 7%. Here's how it works:
 Your income base will increase by 7% every year that withdrawals are not taken, during the first 10 contract years. If the interest earned in your contract is higher than 7% and results in an anniversary value that is greater than all previous anniversary values, then your income base will step up to that amount.
 Your income base can rise for the first ten contract years – even when withdrawals are taken. You will receive a partial income credit, as long as withdrawals are taken according to the terms of the rider.
 Your income base can continue to step up through potential interest earnings on each contract anniversary after the first ten contract years, if a higher anniversary value is achieved.
So, what exactly does all this mean? In a nutshell, the Lifetime Income Plus rider can guarantee income growth – even in a down market, and even after your withdrawals begin. But, just like most other things in life, there is a catch – or a tradeoff – that you'll need to make in order to receive the benefits. In this case, there is an annual fee of 0.95% that is charged for adding this rider. The fee is deducted from the annuity's contract value on each anniversary. So, it is important to be mindful of how much this rider fee can eat into your overall returns over time. In addition, you are subject to a maximum annual withdrawal amount, based on your age, and whether there are one or two income recipients.
To check out the
full AIG/American General Power Index Plus 5 annuity consumer brochure go HERE
.
How an Insurance or Financial Advisor Might "Pitch" this Annuity
Given that people are living so much longer today than ever before, having enough income in retirement has become a top concern for many retirees. With that in mind, the guaranteed income concept of the Power Index Plus 5 annuity is most likely where an insurance or financial advisor would focus on when presenting this product to clients or prospects. Certainly, the ability to grow assets based on the performance of an underlying index – or in the case of this annuity, five indexes to choose from – without worry about losing money in a market downturn, is another potential plus in the "advantage" column for this product. But even with all of these awesome features, you really need to be careful, as there are some "tradeoffs" you may need to make with this product. For instance, even though you have the ability to obtain a positive return based on the performance of an underlying index (or indexes), the upward potential can be limited by a cap and/or participation rate (depending on the crediting strategy you choose). As an example, if you choose the monthly point-to-point additive index interest account, the monthly rate cap limits the amount that can be used to calculate your interest earned. Similarly, a participation rate will only allow you to get a certain percentage of the actual upward return that is attained by the underlying index during a certain period. So, for example, if the participation rate is 80%, and the underlying index achieved a 10% return in a given period, then your annuity would only be credited with an 8% return (80% of 10%). This is why it is important to get a good understanding of how the return on an annuity is actually determined. Otherwise, you could be sorely disappointed. Talking with an annuity specialist who can help you step through this information, as well as offer you side-by-side comparisons of different annuities that are available can be extremely beneficial.
Does the AIG/American General Power Index Plus Annuity Have Any Fees?
In addition to knowing how the returns are actually credited to an annuity, it is also essential to be mindful of any charges or fees that you may be subject to. In the case of the Power Index 5 Plus annuity, if you withdraw more than 10% of your contract's value within the surrender period – which in this case, is seven full years – you could be hit with a withdrawal charge. This surrender fee starts at 8% in the first year, and it gradually reduces over time.
American General Power Index 5 Plus Annuity Surrender Charge Schedule
| Contract Year | 1 | 2 | 3 | 4 | 5 | 6 | 7 | 8+ |
| --- | --- | --- | --- | --- | --- | --- | --- | --- |
| Surrender Charge % | 8 | 7 | 6 | 5 | 4 | 3 | 2 | 0 |
In addition to that, if you make such withdrawals before you turn age 59 ½, then you could be hit with an additional 10% "early withdrawal" penalty from the IRS. Yikes! On top of that, withdrawals that are in excess of the free withdrawal amount (i.e., 10% of the contract value) or amounts that are annuitized during the first seven years are also subject to a market value adjustment, or MVA. This adjustment may either increase or decrease the amount that you receive, and it is determined by a formula in the annuity contract that reflects changes in the Barclays U.S. Credit Index yield since the contract was issued.
The Annuity Gator's End Take on the American General Power Index Plus 5 Annuity
Where it works the best:
Although this Income annuity offers many nice benefits, it will typically work the best for those who are seeking the following attributes:
 Safety of principal
 The opportunity for additional, index-linked growth, which can provide a higher return than a regular fixed annuity
 Guaranteed income for life
Where it works the worst:
Conversely, there are some areas where this product may not be the best option. That may be for people who:
Will need access to more than 10% of the contract's value within the 7-year surrender period
If you are still considering the purchase of the American General Life Insurance Company/AIG's Power Index Plus fixed indexed annuity, but you're still on the proverbial fence regarding whether or not it will be right for you, we can help you to "test" it, based on your specific scenario, at no cost or obligation. Just
let us know
 if this is something that you are interested in doing, and we'll get on the case right away!
In Summary
There is a long list of factors that need to be considered when you are planning for your future retirement income. And, when it comes to using annuities for either your primary income stream, or even for filling in any retirement income "gaps," it is essential that you know just exactly what you can anticipate. That's because a different amount of income than you were planning on can make a big difference in your retirement lifestyle, and on your life! In terms of the Power Index Plus 5 annuity from American General, you can be assured that you will have an income for life. But at the same time, depending on your other goals and needs, this product may still fall a bit short – and there quite frankly may be something else out there that is a better fit for you. If you do have any questions on this, or other income-related products, we are here to help. So please feel free to
contact us directly via our secure online contact form here
.
Do You Have Any Additional Questions About this Annuity? Did You Happen to Notice Any Mistakes on this Annuity Review?
We realize that this annuity review may have been a tad bit longer than usual. But, we would much rather that you have too much information on this product than to not have enough. So, if you found this annuity review to be beneficial, please feel free to pass it on and to share it with other people who could also find value in it. (And, if you found it to be confusing, please also
let us know
 that, too.) In addition, we are aware that information regarding annuities can, and often does, change. So, if you happened to notice anything in this review that should be updated or revised, let us know and we will be happy to make the necessary edits. Any other annuities that you would like to learn more about? If so, just give us a shout and
let us know
, and our team will get to working on them right away. Best, The Annuity Gator P.S. If you would like to read more of our AIG annuity reviews here are some links to check out.