What We Will Be Covering in this Annuity Review
In this annuity review, we will be discussing the following details on the Fixed Indexed Athene Agility 10 Year annuity:
Product type
Fees
Current rates
Realistic long-term return expectations
How this annuity is best used
How it is most poorly used
Annuities can be complex. That's where having an Annuity Investigator who loves math comes in. We make the complex, simple.
If you have been thinking about buying an annuity so that you can lock in tax-deferred growth with your savings, as well as a guaranteed lifetime income in the future, then the Fixed-Indexed Athene Agility 10 annuity may be a viable option for you. However, before you go out and make a commitment to this annuity – or to any annuity – it is highly recommended that you first have a good understanding of just exactly how the annuity works, and how it may (or may not) fit into your overall financial plans. In addition, as annuities – and fixed indexed annuities in particular – have become more popular over the past several years, more and more insurance carriers are introducing new products out into the marketplace. Because of that, annuities that initially might seem exactly alike can actually give you vastly different results. Therefore, it is really important that you first discuss your needs with an annuity professional who can help you with sorting all of the intricate details. This annuity review will give you a good start on that. One of the biggest reasons that consumers are so interested in fixed indexed annuities (also referred to simply as FIAs) is because these products can essentially offer the best of both worlds…or at least it can appear that way. This is primarily because fixed indexed annuities provide the opportunity to receive positive growth when an underlying market index is being tracked and performs well, while also protecting your principal if the underlying index performs poorly during a given period of time. As an additional bonus, fixed indexed annuities can also provide you with the ability to receive a guaranteed income for the remainder of your lifetime (as well as that of a spouse or partner, if applicable) – regardless of how long that income may be needed. But, due in large part to the increased number of new annuity products that are being pushed out into the market by insurance companies – each one of them trying to outdo the other – these particular annuities can also be extremely confusing. So, it makes it even more essential that you read over all of the fine print about an annuity before you commit what could be a large percentage of your savings to the product.
Annuity and Retirement Income Planning Information That Can Be Trusted
If this is the first time you have been here to our website, we would like to personally welcome you to Annuity Gator. We make up a team of annuity professionals who have a primary focus on offering comprehensive – yet non-biased – annuity reviews online. Our main mission here at Annuity Gator is to help you locate the best annuities available, and to guide you towards the one (or ones) that fit your specific needs – and away from the ones that don't. With all of the media hype today – which includes countless numbers of financial "gurus" telling you what to do online, on TV, and anywhere else you can get a satellite signal – it can be difficult at best to cut through all of the clutter. This is where the Annuity Gator comes in! We investigate and compare annuities, and in turn, we provide our website visitors with the in-depth information that they may not receive from their insurance or financial advisors. You can find these reviews in our massive online annuity review database that is located on
our website.
We have been offering these in-depth annuity reviews for quite some time now – far longer than our competitors have – although many of them would like to have you think otherwise. Due to our experience and longevity in this area, we have become quite good at what we do, and we've actually come to be known as a highly trusted source of annuity information on the Internet. If you have been in the process of reviewing annuities online, it is possible that you have come across some vastly conflicting information about these products. This, however, isn't really all that uncommon, as there are many different annuities out there in the world, and there almost as many different thoughts and opinions about them. It could also be that you have recently attended an annuity seminar where, in return for a free meal, the presenter had your attention while he or she described the Athene Agility 10 Year fixed indexed annuity. It may even have been your attendance at that event that has led you online, on a quest for more information. When doing your annuity research, you may have run across some of the other websites out there that discuss annuities – but are more interested in simply obtaining your contact information so that they can bombard you with a deluge of emails and marketing materials. In order to lure you into giving your information, they will often make some pretty outrageous claims about the annuities that they offer, such as:
High Income Payouts
Guaranteed Lifetime Income
Top-Rated Carriers
Lowest Fees
Sound familiar? Yet, as nice as these claims might be, this hype makes it even more necessary for you to make sure that the claims are actually true before you move forward and commit a large percentage of your money to such products. That being said, if you've been seeking more in-depth details about the Athene Agility 10 annuity, you have certainly landed in the right place. In fact, we dare say that our Annuity Gator website is the only place on the Internet where you can obtain all of the information that you require for making a well-informed purchasing decision about this annuity. This includes the good, the bad, and yes, even the ugly. But before we get too far into this review, we do want to be perfectly clear in stating that we believe that annuities can be a very viable financial option for some people – provided that they fit in with your other short- and long-term financial goals. So, if you're ready to begin this review, let's go ahead and dive in!
Athene Agility 10 Year Fixed Indexed Annuity at a Glance
| Product Name | Agility 10-year |
| --- | --- |
| Issuer | Athene |
| Type of Product | Fixed Indexed Annuity |
| S&P Rating | A (Stable) as of April 2020 |
| Phone Number | (888) 266-8489 |
| Website | http://www.athene.com |
Opening Thoughts on the Athene Agility 10 Year Fixed Indexed Annuity
Athene USA is a somewhat newer name for an acquisition of a long-established life insurance carrier that has a century-old track record in the insurance and financial services industry. This company's life insurance offices are based out of Delaware, Iowa, and New York. Athene USA services customers in all 50 of the United States. If you've heard the name Athene, it could be that it's because this is one of the fastest-growing fixed index annuity companies in the industry right now. With Athene's experienced management team, the company has grown from a start-up just a decade ago, to a firm that holds nearly $150 billion in total GAAP assets, more than $117.5 billion in invested assets, and over $13 billion in total equity. So financially, Athene is strong and stable. In addition to it's a rating from S&P, the company has also earned an A from A.M. Best and an A from Fitch. The company also holds approximately approximately $2 billion in excess capital. Throughout the past decade or so, the volatility in the market has really made investors think twice about putting their hard earned savings into an area that could wipe away years of planning within a very short time if experiencing a market correction. Yet at the same time, historically low interest rates in the U.S. over the past ten years or so have not provided investors anywhere near the returns they need in order to beat – or even meet – future inflation. This is where the fixed indexed annuity can come in. These financial vehicles allow you the opportunity to attain index-linked returns as well as the safety of principal, regardless of what occurs in the market. Just like other types of annuities, these products also offer tax-deferred earnings within the account – and, there is the option to receive a lifetime income in retirement, regardless of how long you may need it. However, even though this "best of all worlds" scenario initially seems very appealing, these benefits can also come at a cost. So, before you move forward with the purchase of the Athene Agility fixed indexed annuity (or for that matter, any annuity), you need to be sure that you check out all of the details as, once you have purchased an annuity, it could be quite an ordeal to get yourself out of it.
Before getting into the nitty-gritty details, here are some necessary legal disclosures…
This is an independent annuity product review. It is not a recommendation to purchase or to sell an annuity. Athene has not endorsed this review in any way, nor do we receive any type of compensation for providing this review. This annuity review is meant solely to be an independent review at the request of our readers so that they may see our perspective when breaking down the positives and the negatives of this particular annuity. Prior to committing to the purchase of any type of insurance and/or investment vehicle, it is critical that you do your own due diligence, and that you also talk with a properly licensed professional if you have any questions that relate to your specific situation. All of the names, materials, and marks that have been used in compiling this annuity review are the property of their respective owners.
For additional information on how to compare fixed annuities so that you can decide which may be the best one for you,
click here
in order to obtain our free annuity report.
How Athene Describes the Fixed Indexed Agility 10-Year Annuity
Athene's
website
describes the Agility annuity as one that can help you open the doors to retirement possibilities. This product is designed to deliver strong income and growth potential, along with liquidity. It also includes a built-in income and death benefit rider at no additional charge. As with other fixed indexed annuities, the Athene Agility 10 annuity offers the opportunity for market-linked growth, but without worry about losses in a market downturn. There are also some added "bells and whistles" that you'll find on the Agility annuity from Athene, including:
Indexed interest crediting strategies that are exclusive to Athene
A 20% initial bonus boost to the rider Benefit Base
A 175% market leading stacked growth to the Benefit Base
Huh? Don't worry – we'll cover all of this shortly. But it is that type of annuity "jargon" that can really confuse people into thinking that they're getting a great deal, when in fact there are some tradeoffs you may need to make in order to get the benefits. In fact, this product is quite strong in several areas that are extremely important to both retirees, as well as those who are preparing for retirement, such as:
For instance, with this product, your income could increase each year, depending on the index strategies that you chose. AND, the income increases are locked in, so they can't be lost, regardless of what happens in the market. In addition, your benefit base can continue to grow, even after you are turned on the income stream. This, in turn, can also increase the value of the death benefit if you have chosen the death benefit rider. While the Agility annuity is often compared with the Allianz 222 fixed indexed annuity, there are several areas where the Athene product comes out on top. First, the Athene Agility guarantees a higher amount of lifetime income if we had an extended time of poor performance in the market indexes.  Granted we don't know what the markets will do, but if we did have an extended period where they did not perform, then Athene would give you a higher lifetime income. In addition, the Athene Agility 10 allows free withdrawals of 10% per year based either the initial premium or the account value, whereas the 222 annuity from Allianz only allows you to take out up to 10% based on the initial premium. Over time, there can be a significant difference between these two figures. Where the Athene Agility 10 really shines in comparison to the Allianz 222 annuity is that the Agility offers a better participation rate for the income benefit. (175% versus 150% with Allianz) this can make a very big difference when calculating the lifetime income.  The guaranteed lifetime income for both the Athene Agility and the Allianz 222 have the ability to increase each year based on their market index gains.
Athene Agility 10 vs Allianz 222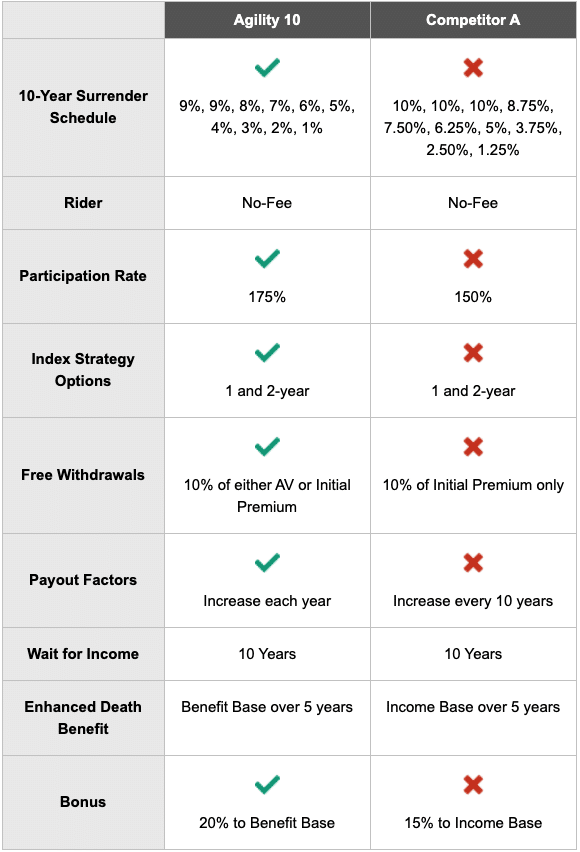 To check out more of the in-depth details about this annuity directly from the company's product guide, you can go
HERE
. You can also take a peek at the full Athene Agility annuity product guide
HERE
.
Athene and the Better Business Bureau
Over the past few years, Athene has received a number of customer complaints through the Better Business Bureau (BBB). These complaints have centered primarily around administrative issues related to one of the company's third-party subcontractors. Sometimes it can really help to see first hand how a financial product has been – or has not been – working out for other investors. You can take a closer look at the
Athene complaints HERE.
Athene has acknowledged this and made the corrections with the third-party subcontractor so that this would not be an issue going forward. This in no way affects the quality, stability, or the strength of the Athene annuity products. In order to read the company's press releases in full regarding this matter, go
HERE
 and
HERE.
How an Insurance or Financial Advisor Might "Pitch" this Annuity
Fixed indexed annuities can offer some very nice advantages – starting with the fact that they provide you with the opportunity to attain a higher return than a regular fixed annuity, yet the FIA will still protect your principal in any type of market environment. As with other annuities, your earnings can compound tax-deferred, so you can continue to build the funds in the account without the need to pay Uncle Sam each year (until the time of withdrawal). The FIA products also allow you to get income for life, so you can alleviate any worry about running out of income in retirement. With that in mind, a financial advisor is likely to focus on this "best of all worlds" scenario when presenting this product to you. However, because there are so many "moving parts" on fixed indexed annuities, you really need to take a deeper look into how the components of these annuities work, because typically, they aren't always a walk in the park when it comes to generating the returns you are anticipating. In addition to possible surrender charges, there can also be some other fees involved if you own the Athene Agility 10 Year Fixed Indexed annuity.
Fees Associated with the Athene Agility 10 Annuity
When you have a financial product that offers any type of guarantee on it, it's likely that there will also be tradeoffs to consider somewhere along the line. This holds true (somewhat) with the Athene Agility 10 year fixed indexed annuity. In this case, for instance, there is no added cost for the income rider. However, there are a few areas to keep in mind that could cost you, if you're not careful. This annuity would not be a good fit if you planned to start the lifetime income before  10 years. Technically you could withdraw your free 10% each year but that would not be using this contract to its full advantage.  This is an excellent annuity but it is really designed for income later. Meaning you want your lifetime income to start at least 10 years or more down the road.  If you want your income to start before that then there are better annuities to meet that goal. Just
contact us
and we will help you review what annuities would be better for income starting earlier. Also, as with most other annuities, if more than 10% of the contract's value is withdrawn during the surrender charge period, a withdrawal charge penalty will be incurred. These charges are set up as follows:
Athene Agility 10 Annuity Surrender Charge Schedule
| Contract Year | 1 | 2 | 3 | 4 | 5 | 6 | 7 | 8 | 9 | 10 | 11+ |
| --- | --- | --- | --- | --- | --- | --- | --- | --- | --- | --- | --- |
| Charge % | 9 | 9 | 8 | 7 | 6 | 5 | 4 | 3 | 2 | 1 | 0 |
| For Calif. | 9 | 8.2 | 7 | 5.9 | 4.8 | 3.6 | 2.5 | 1.3 | 0.1 | 0 | 0 |
In addition to incurring a surrender charge from Athene, if you make such a withdrawal prior to turning age 59 1/2, then you could also be hit with an additional 10% "early withdrawal" charge from the IRS. To see a full breakdown of all charges and fees, as well as some of the other "tradeoffs" you may need to make in order to obtain the benefits from the Athene Agility annuity, go
HERE
. With that in mind, it is important to note that the Agility 10 annuity from Athene is primarily geared towards receiving income later (at least ten years after purchasing the product) as versus a product for getting income "now."
The Annuity Gator's End Take on the Athene Agility 10 Annuity
Where it works the best:
The Athene Agility 10 Year Fixed Indexed annuity could work for you if you are looking for:
Safety of your principal – regardless of what occurs in the market
The opportunity for index-linked growth
Guaranteed lifetime income in retirement
This product can also provide an opportunity for individuals who have various health issues (and in turn, who may not qualify for a traditional, standard life insurance policy) to secure death benefit protection through the annuity.
Where it works the worst:
Alternatively, this annuity may not be an ideal fit for you if you:
Want penalty-free access to most or all of your money within the first Ten full years of purchasing the annuity
Do not intend to use the lifetime income feature of the annuity
Want to start receiving income within the first ten years of owning the annuity
In order to truly get an idea of whether or not a fixed indexed annuity such as the Agility 10-year annuity from Athene is right for you,
click here
so that you can access our free annuity buyer's report.
In Summary
There are many different factors that you should consider prior to making a long-term commitment to purchasing an annuity. For instance, in addition to knowing that it can be costly to change your mind, you should also consider why you may be choosing one fixed indexed annuity over a long list of other products that may also suit your particular financial needs. Especially in light of the fact that the Allianz 222 is oftentimes directly compared to this Athene annuity. To check out the Annuity Gator's updated review of the Allianz 222 annuity go
HERE
 . When considering the Athene Agility 10 annuity, though, you can be confident that the principal you have in the account is safe, regardless of what happens in the market – or even in the economy overall. You can also be sure that you will have an income in retirement for as long as you (and your spouse, if applicable) need it. And, this income can also rise over time to help you keep pace with the rising cost of goods and services that you need to purchase in retirement. However, that being said, this annuity could also fall somewhat short if you needed the income to start before 10 years.  If this is the case there are better alternative annuities, just check with us. But even so, the only way to really know if the Athene Agility 10 annuity is right for you is to have it tested. We can assist you with that by running it through our annuity calculator, using your specific financial figures. If this would be of interest to you, please contact us using the form below:
Do You Have Any More Questions About this Athene Agility 10 Annuity? Did You Notice Any Mistakes in this Review?
We realize that this annuity review ran a bit on the long side. However, we feel that providing you with "too much" information is far better than not giving you enough. So, if you felt that this annuity review was helpful, then please feel free to pass it along and share it with anyone else who you think might also benefit from it. In addition, we also realize that the information about annuities can – and often does – change. Therefore, if you happened to notice if there were any details within this review that should be revised, please let us know that too, and we will be glad to make the necessary updates to it. Are there any other annuities that you would like to know more about? If so, just
let us know
the name (or names) of the annuity(ies) and our Annuity Gator annuity "geeks" will get on it. So, be sure to check back soon and regularly to see all of our new and updated annuity reviews. Best, The Annuity Gator P.S If you would like to read more of our Athene annuity reviews here are some links to check out: